Do you have an innovative concept but haven't yet figured out all the details? Or perhaps your startup is already gaining traction, and you need an injection of capital to jump into the next gear. In either case, you may be wondering if joining an incubator, accelerator, or venture studio is a strategic move for your startup.
For startups, the opportunity for growth is limitless. But even the best ideas need the right environment in which to develop and thrive. In this article, we'll explore these three different options and help you determine which one presents the greatest opportunity for helping your startup grow.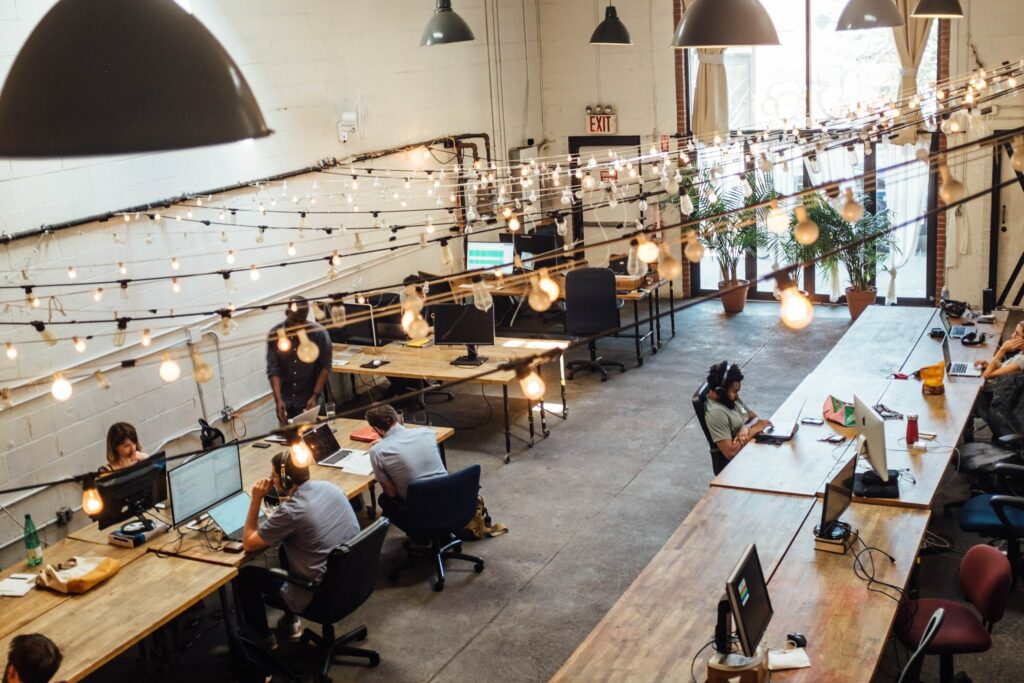 Incubators vs. Accelerators vs. Venture Studios: What you need to know before you choose
It's essential to do your research before choosing the type of program to join. Each one has its own merits and drawbacks. Although incubators and accelerators are often used interchangeably, they feature notable differences and target separate stages in the startup journey. Venture studios are less widely known but have unique characteristics that make them more effective in certain scenarios.
Before making your choice, consider what is most important to you. Is it funding, mentorship, networking, physical space, time, or expert advice? Depending on your priorities, one of these options will suit you better than the others.
How do incubators work?
Startup incubators help startups gain momentum right from the start. They provide valuable resources like physical space and mentorship at the foundational stages, even if you don't have a fully-fledged business plan. Often, all that's needed to apply is a good idea.
Since many incubator programs have open-ended timelines, there is less pressure on going straight to market and more focus on refining ideas and developing investment-ready pitches.
They're often funded by non-profit groups like academic institutions, governments, or economic development organisations that promote innovation in a particular sector. Therefore, acquiring startup capital from the incubator itself is not always possible. However, incubators can also be funded by venture capital firms that inject capital in exchange for equity.
Benefits of joining a startup incubator
Joining a startup incubator gives you access to valuable resources that might not be available to individual entrepreneurs.
Here are some of the most common benefits.
Available to early stage startups
Incubators can be joined at the beginning stages of startup development. While accelerators have rigorous application processes, many incubators allow you to apply with just a promising idea or outline a business plan. This flexibility makes incubators the most accessible option for budding entrepreneurs who need guidance.
Access to industry experts and mentors
Incubators give you access to experienced professionals and seasoned entrepreneurs who might otherwise be hard to reach. So whether you're looking for help with product development or funding strategies, you'll be able to talk to someone who has been in your shoes.
Free office space
Since most fledgling startups can't afford their own space, incubators often offer participants free or low-rent office space. Don't underestimate how much time and money this can save you in the long run.
A community of support and collaboration
One of the best parts about joining an incubator is being surrounded by like-minded people looking for feedback and cooperation. You may discover unexpected network connections or learn about projects that complement your own.
Events, training, and education
Take advantage of the different learning opportunities offered by incubators. For example, to assist inexperienced entrepreneurs, incubators might offer workshops on various topics such as legal issues, hiring strategies, or developing a new product.
Administrative support
Incubators allow you to hand off specific tasks so that you can focus more on your core project. This support might include tasks related to accounting, marketing, manufacturing, or legal issues.
The downsides of incubators
Not every startup needs to join an incubator to achieve success. Be aware that participation could include several potential downsides.
Cost efficiency
Many incubator programs can be costly. Even though they may advertise many free complementary services, it may be possible to take a leaner approach on your own.
Loss of independence
Since the incubator invests time and resources into your startup, they expect certain things in return. Therefore, be prepared to receive advice that may not fit your roadmap and decide beforehand what you are willing to give up in terms of equity or leadership.
Loaded schedules
Each incubator is different, but many require or strongly encourage you to participate in a full schedule of workshops, mentoring sessions, or competitions. While these are intended to support your development, they may end up taking time away from your most important objectives.
Typical duration of an incubator program
Incubators have a more flexible timeline than accelerators. Some programs offer an open-ended approach where the exit is determined by the stage of the company or the securing of funds. Others have a pre-determined duration – often one to two years or more.
Who are incubators looking for?
Don't worry if your business plan isn't polished yet. That's precisely why incubators exist. Instead, focus on communicating a compelling idea that demonstrates the potential for growth. Since incubators are longer-term than accelerators, expect a lengthy learning and development process.
Is an incubator right for your startup?
If you're still in the ideation stage, then an incubator is probably your best option. Industry veterans who are experts in your field can save you countless hours by steering you in the right direction, and you'll be working in an environment that values the process as much as the outcome.
Research the available incubators in your area to determine if they are the right fit for your startup. Do they have a proven track record in developing startups in your field? Do these startups go on to do great things? If the answer to these questions is yes, then get started on your application.
But what if you already have a solid business plan and your startup is quickly growing a base of loyal customers? In that case, you might want to consider an accelerator program instead.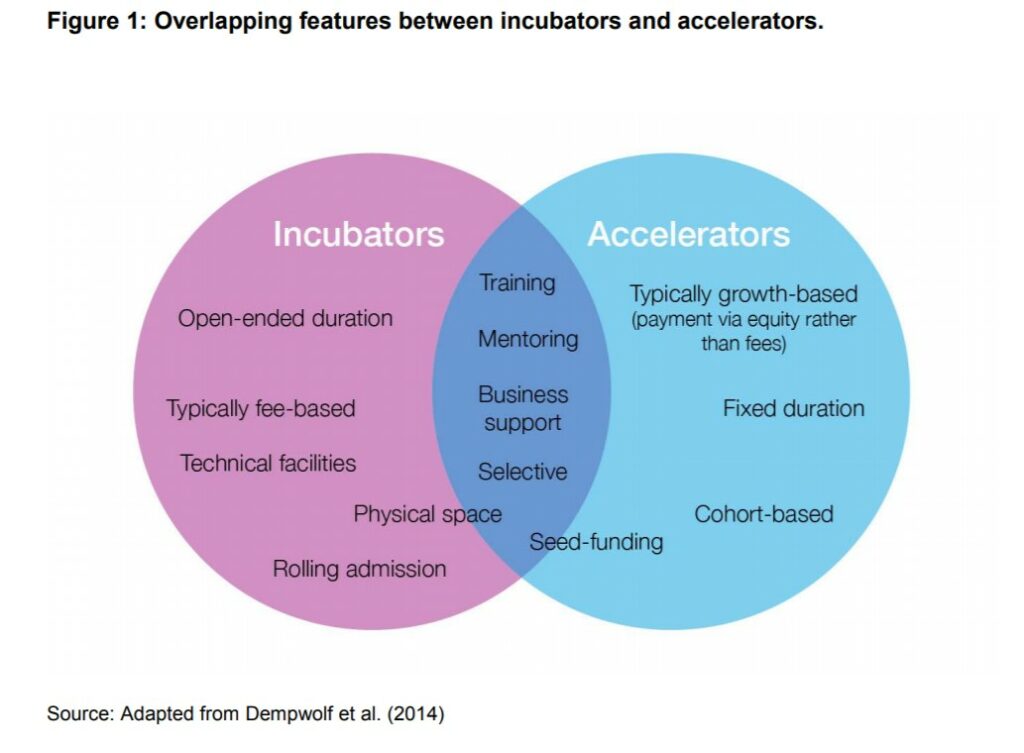 How do accelerators work?
Accelerators help early-stage startups scale and quickly get their product to market. They offer mentorship and investor access to accelerate growth over a short period. Since it is a rigorous program, the application process is strict, and acceptance rates are low. However, if you have a winning product that is already validated with some degree of product market fit, accelerators offer a proven method for scaling up in the shortest amount of time.
Benefits of joining a startup accelerator
Joining a startup accelerator gives you a great chance of walking away with investor funding or some of the other valuable benefits listed below.
Funding
The goal of accelerator programs is to launch local startups and early-stage companies out into the broader, global market. Investors working with accelerators are ready to dish out seed funding to the right startup as long as they receive a certain amount of equity in return. Furthermore, graduating from an accelerator can help you secure further funding in the future, as investors are likely to feel that your startup is less risky than an unproven alternative.
Expert mentorship program
What's the best way for mentors to help you? They limit costly mistakes that can kill startups in the complex scale-up process. Additionally, working with established industry players will help identify gaps in your team's skillset and reduce the learning curve. This mentorship system allows you to leverage years of invaluable wisdom and may extend far beyond the few months of the accelerator program.
Professional support
Scaling is hard when you have to do everything yourself. Startup accelerators offer professional support systems such as law firms, financial advisors, or patent attorneys interested in advising startups.
Partnerships and connections
Participation in an accelerator opens a lot of doors. For example, you may form a partnership that proves invaluable to your startup or gain access to pivotal connections in your industry. These connections could pave the way to generating profitable customer leads in the future.
Demo day
Demo day is a rite of passage for every entrepreneur! Nothing compares to standing alongside other founders and pitching your startup for the first time. Joining an accelerator will help you to get the practice you need to be able to pitch confidently in front of potential investors.
The downsides of accelerators
Despite the exciting opportunities that accelerators present overall, founders should be critical of individual programs. They might come with some of the drawbacks listed below.
Varying degrees of quality
Be careful of participating in accelerator programs that haven't demonstrated their value to startups. Check their history to see what kind of startups have participated and whether they've gone on to achieve greater success.
Nowadays, the startup space is crowded. This presents a business opportunity for accelerators, which are not all created equal.
Do your due diligence and be as selective of an accelerator as they are for startups.
Lack of investor relationships
To build on the previous point, some accelerators might promise funding opportunities without having solid relationships with a broad base of investors. When it comes to pitching your startup at the end of an exhaustive program, you deserve to see legitimate investors in the audience.
Research the funding opportunities that have been offered to previous startups and determine if the scope of investment matches the workload.
Potential for loss of efficiency
Even if you build a promising startup and have an MVP on deck, an accelerator might not be your best option. Perhaps you already have connections to eager investors or have enough runway to hold off on the next round of funding.
If you are building enough traction on your own and are already confident in your team's capabilities, then participating in a three to six-month accelerator program might slow you down.
Typical duration of a startup accelerator program
Accelerators have a fixed timeline of three to six months. This short period means that involvement will be rigorous, and free time will be limited. Accelerator programs often have packed schedules of mandatory or strongly encouraged networking events, mentorship sessions, and training workshops that you should factor into your timeline before applying.
Who are accelerators looking for?
Accelerators are looking for startups that already have a minimum viable product (MVP) and an established business model. Having a solid founding team already put together is a bonus. This is not the place to work out the kinks in your system; you need to be ready to run with the capital and achieve explosive growth.
Is an accelerator program right for your startup?
Ask yourself the following questions to see if an accelerator is right for your startup.
Do you have an MVP?
Are you already demonstrating rapid growth and customer acquisition?
Can you articulate your obstacles to an expert mentor?
Do you have a competitive advantage that will be attractive to investors?
Do you need an injection of capital to take you to the next level?
Have you built a strong team that promises success after the accelerator?
Are you willing to be coached and humble enough to take criticism?
If you answered yes to most or all these questions, you should consider applying to an accelerator program. Accelerators have a proven track record of transforming budding startups into global market disruptors.
What are venture studios?
Venture studios present a different approach to launching startups than incubators or accelerators. As a result, the system is gaining popularity and has recorded an estimated 625% growth in the startup market over the past seven years.
The goal of venture studios is to create a series of startups from the ground up, often in quick succession or by working on multiple projects simultaneously. They are companies that have their own funds, in-house experts, and resources to dedicate to building startups. They are also sometimes referred to as a 'startup foundry' or 'parallel entrepreneurship.'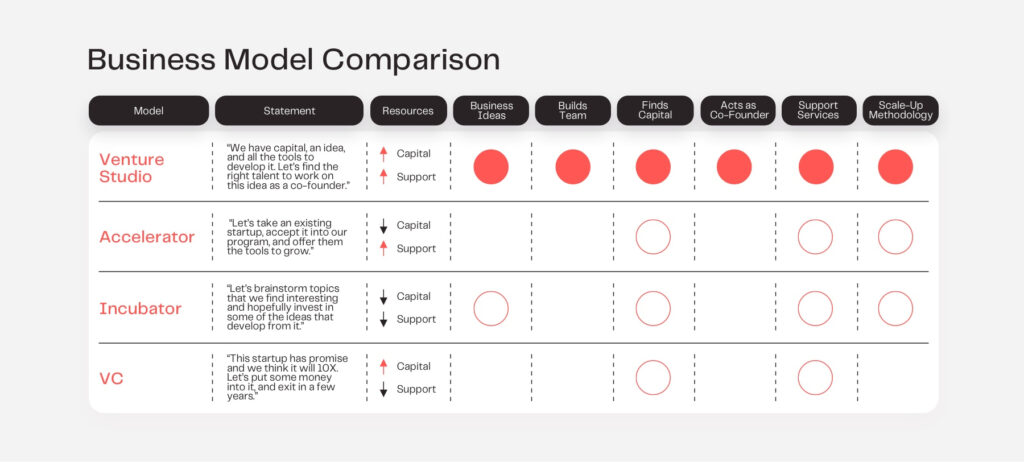 How do venture studios work?
Venture studios combine venture capital and company building. Instead of distributing resources to a wide range of startups that have a high probability of failure, as is the case for most incubators or accelerators, venture studios focus all their resources on developing a few highly promising startups.
They often source ideas internally and collaborate with serial entrepreneurs and well-positioned investors to rapidly develop startups that have a high chance of success in the market.
Benefits of a venture studio
Higher chance of success
Venture studios only work on the ideas they believe will be successful.
A significant amount of planning and research goes into the selection process, resulting in highly honed startups for market penetration. Additionally, these startups often receive much higher funding levels that give them longer runways and the ability to expand faster.
Able to take on the big players
Venture studios are strategically positioned for horizontal integration. They already have established partnerships that provide the testing grounds for new products and the resources to take them to market. This allows startups developed in venture studios to scale much faster than startups from incubators or accelerators that must grow more organically.
Valuable human capital
Venture studios go beyond mentorship. Industry experts are not just available for advice; they are integrated into the team and often placed in leadership roles. Usually, the process is more like matchmaking between good ideas and experienced talent.
Once the startup is officially launched, team members may return to work on other new projects at the studio or continue to lead the startup into the next stage of development.
Comprehensive development process
If your startup is brought under the wing of a venture studio, then you can expect to receive extensive resources to test your ideas and go to market.
Incubators and accelerators will often provide access to funds and expertise, but it will be up to you to make the most of them. In contrast, venture studios focus all their resources on developing every aspect of a startup from the ground up.
The downsides of venture studios
As with all models, venture studios are not the right fit for every startup. Here are some of the potential drawbacks.
Limited participation
Since the development process is so intensive, venture studios often only take on two or three projects at a time. Unfortunately, this can make it more difficult for startups to access the best opportunities.
You'll retain less ownership
In exchange for utilising the significant resources of a venture studio, you'll most likely have to give up a substantial portion of your equity. Be aware of the consequences down the road, and calculate how much ownership you'll retain after additional funding rounds.
High costs and time investment
This is a high-intensity method, and many projects developed by venture studios are trailblazers that will take years to become profitable. Understand that this is not a quick pitch method like an accelerator. It requires a considerable dedication of time and effort.
Who are venture studios looking for?
Many venture studios develop their ideas internally, but others will source external ideas as well.
Each studio will have specific criteria that depend on its in-house expertise, resources, and industry connections. However, all venture studios are looking for fresh ideas that have demonstrated potential to be worth their long-term investment.
Is a venture studio right for your startup?
Venture studios combine the innovation of fresh startups with the experience of industry experts and financial resources often available only to larger companies. This leads to the building of companies that can successfully navigate the long road to success in markets already crowded with established players.
To participate in a venture studio, you must first successfully demonstrate that your startup can be a disruptor in a competitive market. If you can do that, then a venture studio might be interested in deploying its comprehensive toolkit to develop your company further.
Incubator, Accelerator, or Venture Studio: which is best?
There is no correct answer to this question. It all depends on where you are in your startup stage and what your priorities are.
Incubators are best for idea-stage businesses or fledgling startups that need more time and support to develop their idea into market-ready solutions.
Accelerators are best for startups that have figured out a successful business model but need extra capital to boost further growth.
Venture studios are best when entering a space with few competitors that requires an intricate business model. This indicates significant challenges that can be overcome with the dedicated expertise and extensive resources of venture studios.
Take time to research the opportunities available to you and reach out to different programs to see if they can provide the resources you need to take your startup to the next level.