Discover the best funding solutions to start, grow, and scale your startup
Navigating the world of startup funding can often feel like a challenging and painful experience, particularly if it's your first time. Swoop helps founders access funding across equity, grants and loans.
What does Swoop Funding do?
Trying to get funding for your new startup from angels, VCs, banks and other financial institutions can take a long time and often be very difficult.
While many businesses and startups apply for funding, only a small percentage will successfully raise capital. The process is tedious, time-consuming and can cost you money if you are unsuccessful in your applications.
Swoop Funding allows business owners to look for funding for their business. It has been designed to help businesses of all sizes grow through access to the right type of funding for them. This can be anything from startup grants, R&D tax credits, debt financing, or equity funding.
Since launching in May 2018, Swoop has helped 80,000+ businesses find over ₤139,000,000 in funding. They are a chosen partner to all major banks in UK and Ireland, and can be found on the business banking pages of the top nine UK banks.
How do they do it?
Essentially, Swoop aims to help you secure funding for your startup through their network of funding sources.
Swoop have created smart matching technology (accessed via an easy-to-use dashboard) and combined this with real people at the end of the phone.. They use a sophisticated algorithm to match startups with over 1,000 different funding sources.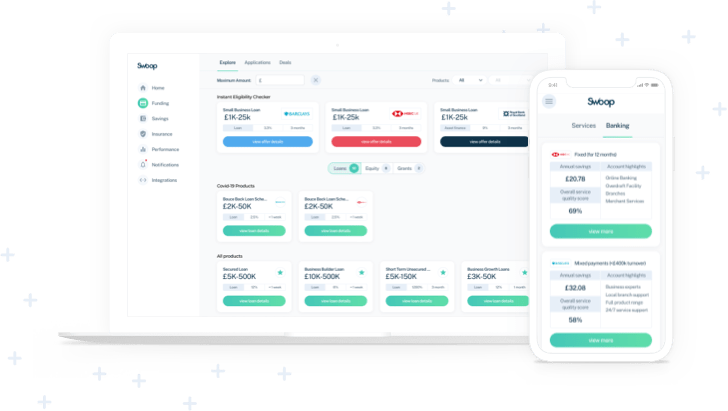 To get started, all you need to do is fill out a simple application form. Swoop's funding experts will review your application and suggest the best possible funding options for your business.
After submitting an application, Swoop will send you updates every time there's a new development in your application. You'll learn about new matching opportunities and funding offers from accredited lenders.
To support startup founders with equity funding, Swoop has a huge network of over 200 Venture Capital funds, Angel Networks, Family offices, and Angel Investors.
Why should entrepreneurs use Swoop Funding?
Trying to find the right funding for your business can be a time-consuming and frustrating task, especially if this is your first business venture. There are thousands of funding options available, from countless lenders and investors, and it can be difficult to figure out which one is going to be best for your specific needs.
The good news is that Swoop Funding will help you find the perfect funding source for your business by providing you with expert advice on what types of funding are available, how to apply for them, and much more.
The key benefits of working with Swoop are:
1) They are experts in working with startups. This means you can trust their knowledge and expertise regarding getting the right funding for your business.
2) They will help you apply for the right funding option for your business. If you use other services, you may need to search for every lender individually, which can be a waste of time. You will also risk applying for funding that doesn't fit your business model or goals. Investing in the wrong funding option could negatively impact your business and future growth.
3) You get direct access to funding from non-traditional sources like grant funding and R&D tax credits.
4) Swoop can provide expert advice on how to write an effective pitch deck and executive summary, so that your application is more likely to be approved by investors.
Swoop Services
Startup funding options
Loans
Equity
Grants
Commercial mortgages
Start up loans
R&D tax credits
Comparison services
Health check
Swoop Funding Reviews
As a start-up Founder, one of the hardest tasks has been locating and securing 'smart money' – there are a tons of outfits out there that pray on early-stage businesses by promising funding leads that normally don't transpire or offer unviable term sheets – I can categorially say that Swoop is not one of those outfits!

As soon as we signed up with them, our equity manager – Tom Butterworth, has linked us to some of the largest and most reputable investors in the UK, as well as coaching and supporting us through each pitch he has set up for us.

I highly recommend Swoop as the best (and first) place to go in order to raise equity funding.

Rob, Founder of Plend (via Trustpilot)
Swoop make investment rounds easier. I would recommend them to any start-up looking for equity or loan-based funding. Bobby from the team has been professional, positive and results driven throughout.

Matt Whitchurch (via Trustpilot)
Swoop offered a superb service overall. We had a poor experience from our own bank, Barclays, who took more than 3 months without any substantive progress on our CBILS application. Swoop assigned David to work on our case who got our loan approved in 5 days and the money was in our account shortly afterwards!

Dr Adnan Niazi, Founder & CEO, Novus Altair Ltd
Conclusion
Working with over 1,000 funding providers, Swoop help to demystify the funding landscape and provide easy access to the broad range of small business funding options available across the UK & Ireland.
Swoop Funding is a great resource for entrepreneurs looking to find out more about business funding. In less than five minutes, it's possible to find out the basics of what you need to know, and even request funding via the site. This makes it a useful tool for any entrepreneur.
As one of the newer and most innovative companies in the funding solutions market, Swoop have all the tools necessary to help startup founders achieve their dream of owning and operating their own business.
Why we like Swoop
Swoop simplifies and speeds-up access to loans, grants and equity funding for businesses in the UK & Ireland.
Trusted as a chosen partner to all major banks in UK and Ireland
Chosen by the Competition and Markets Authority to offer funding and savings solutions
Swoop operates with integrity and is fully authorised and regulated by the Financial Conduct Authority under FRN 833145.
Register an account for free and within minutes, you could be matched with the finance solution most appropriate for you.