No tech co-founder? No problem.
Bubble is a complete no code platform that makes it simple to build and launch complex web applications.
No Code is all the rage at the moment, and it might be the perfect solution for early stage founders looking to start imaging their idea, designing their solution and validating the opportunity.
There are a number of benefits to No Code solutions (as well as some downsides), as we describe in our Founder's Guide to No Code.
What is Bubble?
Bubble.io is a full-stack environment for building web applications, no coding skills required.
Unlike some other no code platforms, which are focused on building simple web sites, Bubble enables anyone to design, develop, and host fully functional, powerful web applications, which also look beautiful.
What can you build with Bubble?
Bubble is good for building most apps, including internal tools, customer and employee data platforms, marketplaces, and project management applications.
Using a drag-and-drop interface, you can create almost any kind of application you can imagine, including job portals, online shops, content management systems and more.
Bubble templates
The Bubble template collection is one of the most powerful and versatile resources for startup founders that we have come across.
The library contains a huge number of pre-made website and app templates that run on the Bubble platform (so they can be easily customised to meet your needs) – you can even find clones of popular applications like Slack or Tinder!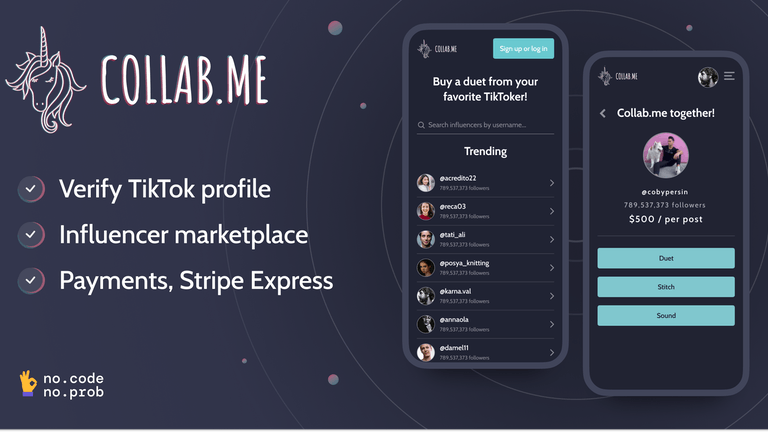 Why we like Bubble
Bubble is a fantastic tool for the bootstrapping entrepreneur. With Bubble, you don't need to learn to code or hire engineers to make your next idea a reality.
Bubble.io helps you build your startup faster and better than almost any other platform out there. It helps you build your MVP (Minimum Viable Product) with no coding experience, and gives you all the tools to get started.
You can launch your MVP in less than a day, and get feedback from your target audience within hours of publishing it. So instead of spending months on making it perfect, you can get straight to iterating on your idea and getting people to use it.
As a technical founder, I still see two really great things about going with Bubble:
It's a no-code platform, so I don't have to worry about the maintainability of the code side of things so much. And it's easy to find/upskill people to work on it.
It's been proven to scale well, so I don't have to worry about it falling over when I get to scale up.
Finally, Bubble know their audience.
They even put together documentation to help investors understand that they can and should be investing in startups build using Bubble!