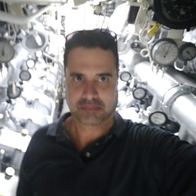 ---
Founder of TeknTrash, Al talks to us about how he's navigated his entrepreneurial journey – from selling one of his companies (from his bedroom!) to a NASDAQ-listed one, to starting TeknTrash.
So what? Al's been a really active attendee of our Pre-Accelerator, even though it supposedly wasn't 'targeted' at him (looking at his experiences in past startups and similar programmes!).
We've loved Al for bringing the interesting, sometimes thought-provoking discussions to our sessions and the way he's made this programme work for his needs – so we thought we'd get to know him better.
💬
About Al
"I've always been an entrepreneur: I remember one of my ex-bosses asking me, "do you expect to have a challenge every day?" as if this was a bad thing. Coupled with that, I also started getting tired of companies that would hire me with boastful promises of a career.etc, only to lay off entire divisions a few months later. 
So I decided to found an e-commerce consulting company when I was still living with my parents. I did not even have a chair: it was my bed. I ended up selling it to a company from Miami (Visualcom) which was later sold to another listed in NASDAQ (Fusion Networks): thus, I was able to trade a company in my room for shares of a NASDAQ listed company."
Q1: Could you introduce us to TeknTrash, and why you decided to build it?
Al: I always hated recycling. In fact, putting the garbage out. So I thought of a company which would take my garbage every day for something like 10 bucks a month. I was then invited to present that idea to an event in Ukraine (they even paid my travelling expenses), so I thought I could be into something good. As time went on, the technology grew, such as the portal www.stipra.com where people take pictures of their trash before dumping it to get rewards, and corp.stipra.com, where companies use that data to better focus their geographical sales efforts.
Q2: You've been building TeknTrash for a year. Could you share what your personal or professional experiences been whilst building it?
Al: It has been a mix. I learnt the hard way that bringing your friends could risk having people who don't help with the workload, because they expect you to do it for them (after all, you are their friend!). So today, I only bring in people whom I can see bringing results or ask to leave.
I've also learned to be in the right market, and London has been wonderful in this regard. On the positive and rather personal side, it has been quite rewarding – I am happy to know that we encourage proper recycling (which has a major positive impact on the ecosystem), and that we are able to provide people with a source of income: I've lived in developing countries, seen poverty from up close, and it ain't pretty.
Q3: Unlike most of our Pre-Accelerator cohort who are new or first-time founders, you're experienced in building startups. We're curious why you decided to join this programme, and how you've been applying it to TeknTrash?
Al: I've participated in another rather famous accelerator program and it wasn't a good experience; they'd make lots of promises but in the end couldn't even answer simple emails. In a data-based world, the simple inability to answer emails was totally unacceptable.
In this sense, SeedReady has been a breath of fresh air – we get instant feedback about our needs, ideas etc. I feel that we are heard and that what we do is taken into consideration and that you guys are paying attention.